ELEVATING NATURAL STANDARDS
IN HOME FRAGRANCE
SINCE 2012
WE EXCEED NATURAL EXPECTATIONS

NOT MANUFACTURED. Our candles are scented with only 100% pure plant and flower oils. Meaning, the only thing scenting our candles is the oil that comes directly from plants and flowers. Pure and unadulterated. That's why our candles smell genuine, fresh and just like the ingredients that are in them!
---
WE WILL NEVER DECEIVE YOU. Websites and packaging have a lot information to tempt you, lure you, and maybe even deceive you. We NEVER do this. Our motto is always 100% transparency. We make pure products, without any additives or synthetic ingredeints. We list everything clearly, and never "natural" wash or "green" wash. Why ? Because we don't like when brands do that to us! And honesty rules.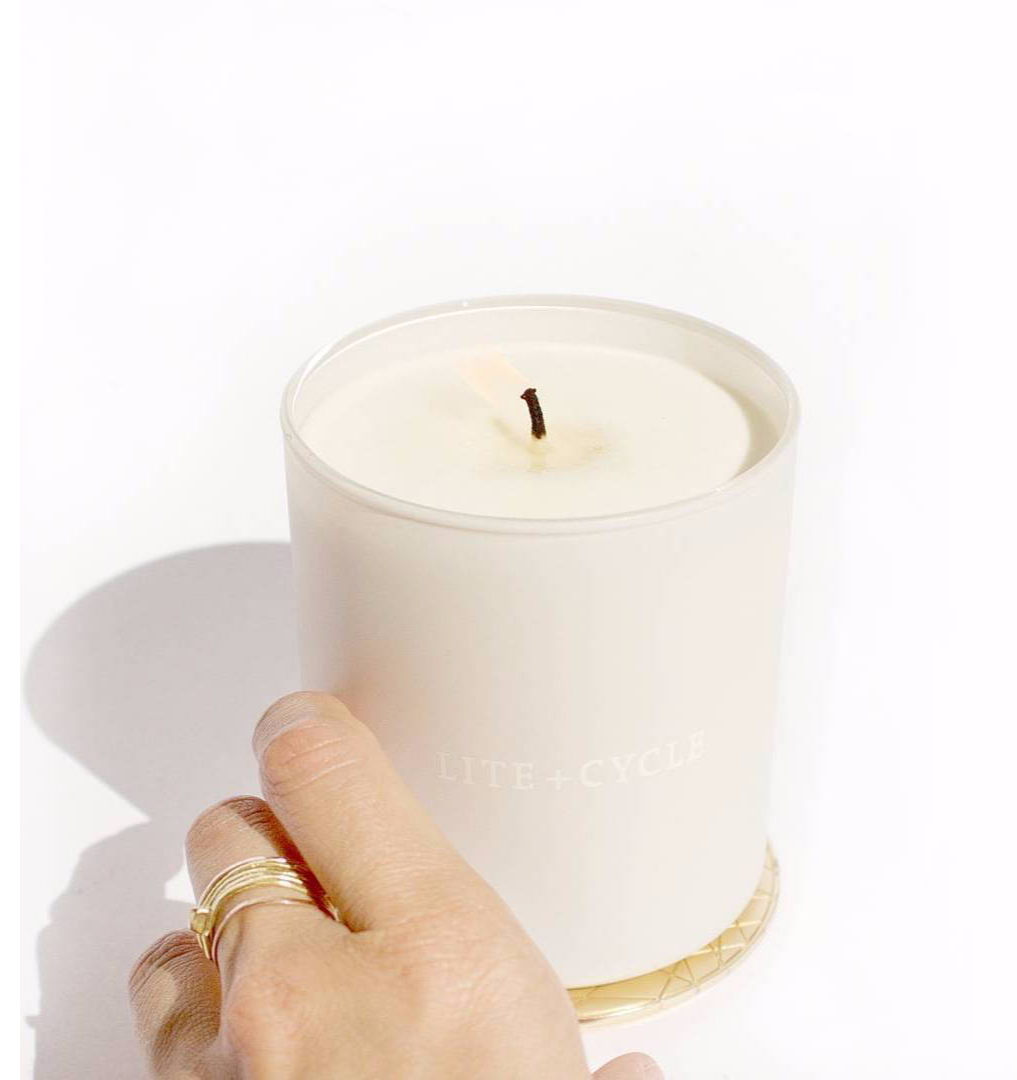 OUR CANDLES NEVER EVER CONTAIN:
Synthetics, Phthalates, Lead, Petro-chemicals, Animal by-products, Paraffin, Dyes, Formaldehyde, Parabens, Musk Ketones, Methyl Chloride, Linalool, Limonene, Ethyl Acetate, Ethanol, Camphor, Benzene Alcohol, Benzene Acetate, Benzaldehyde, Acetone, or any other hidden toxic ingredients. FYI some of the above also show up in "Natural" products, so we just keep it simple and pure!
---
CLEAN SLOW BURNERS. Our wax is 100% American-grown and GMO free soy wax. Soy is a renewable material and free from petro-chemicals and petri-soot, so they burn cleaner than most. Plus we use 100% unbleached cotton wick. Less smoke and black resdidue, not to mention toxins.
WE THINK A LOT
ABOUT EVERYTHING

DESIGNED FOR ANY HOME. Our candle glass was designed to blend in, not stand out. We aren't interested in shouting, we like things quiet, subtle and calm. Therefore our just right (yes it took about 20 versions!) white glass is able to sit in any room. Please recycle this glass, or reuse it using one of our ideas here.
---
RESPONSIBILITY OVER FANCY. Each candle comes in a paper box that contains post consumer recycled material, and should be recycled. We eliminated things like foil, laminations, and extra decoration to be more gentle on the environment.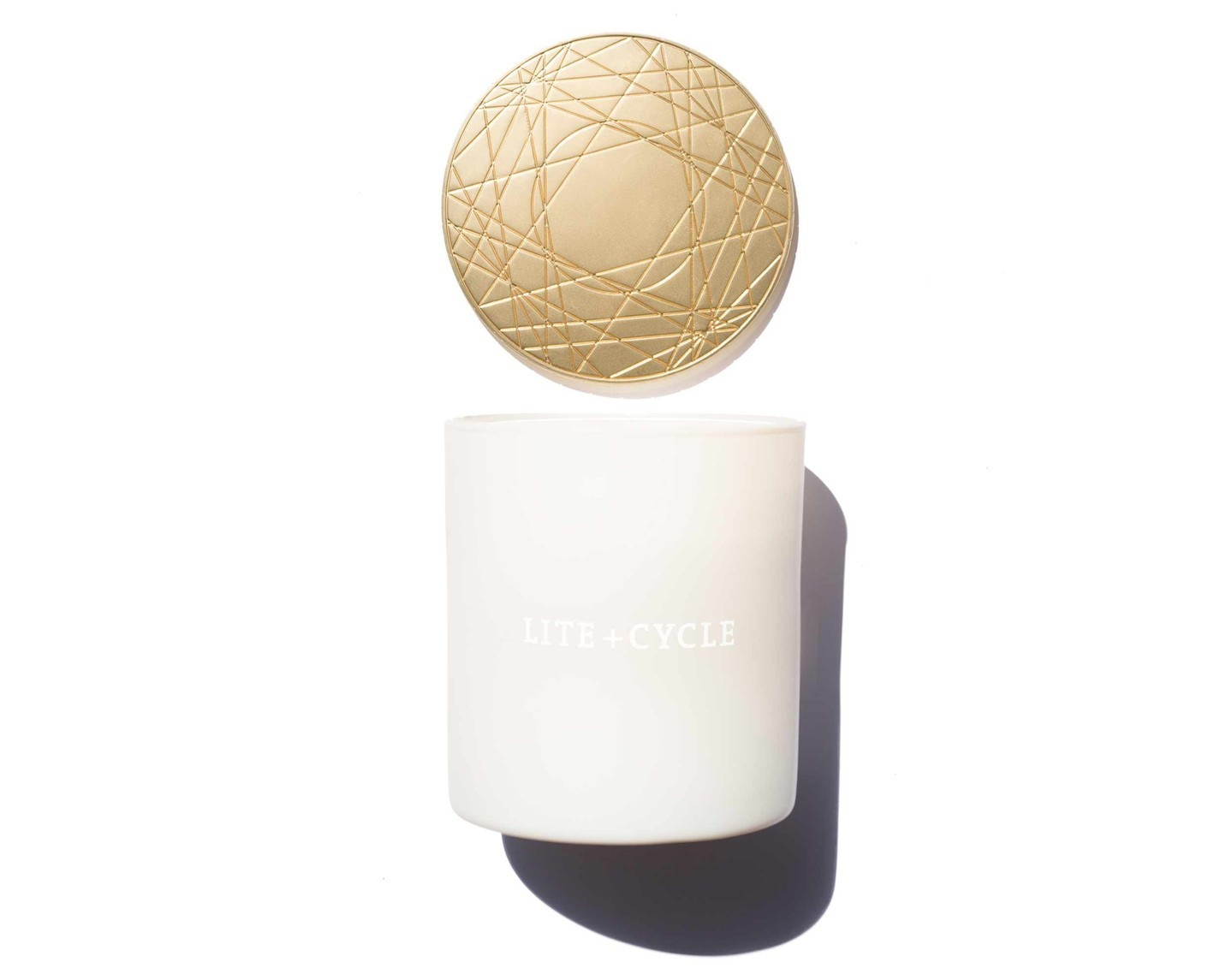 FUNCTIONAL AND BEAUTIFUL.
Our signature etched gold candle lid can be used to extinguish your LITE+CYCLE Essential Oil Candle. Designed to have multiple functions it can also ignite a strike-anywhere match, function as a stand, a coaster, and when turned over a shallow dish.

---
WE TRY TO MAKE LESS TRASH. Your orders will come delivered in no fuss paper boxes, paper and "peanut" cushioning. The boxes and paper are recycleable. The peanuts are biodegrable. You can run them under water and they will dispapear.
Founded in 2012 by artist Kristi Head, with the intention of illuminating healthier fragrance practices, each fragrance is pristine and artful.
LITE
We believe in the flow of creativity and connectivity of all beings. We give back to the global communities that help us thrive. We believe in the innate intelligence and abundant beauty of nature.
+CYCLE
We believe in shedding light on healthier fragrance practices by eliminating synthetic substances and disclosing all fragrance ingredients. We choose ingredients that sit lightly on the planet and on our bodies.